Generally ,While using Internet, we need to send files to our friends,bosses,clients and relatives.One way to do that is to upload a file on some file sharing website,and then send the link given by that website to your friend.However this consumes lot of time and file sharing websites impose bandwidth limitation .

                In this post, I am going to tell you another very simple and effective method to share files over the internet.If you and your recipient have the Flash plugin installed, it doesn't get much easier than Files Over Miles.

How It Works?
Choose a file to share, and Files Over Miles creates a hash-like URL for the transfer.
Next You need to send this created link to recipient .You can use either Instant Messaging(IM) or E-mail to send the link.
Once the receiver get the link and click on it , your data is sent directly to the person at the other end.The file started downloading in the receiver's browser.
Requirements:
The Flash player 10 should be installed in your browser in order to work this.

 As this service uses P2P connection,your firewall should not blocking P2P connections.

After uploading the file and sending the link to the receiver ,the receiver will only be able to download the file until you open the website window in your browser.
Your files are sent the shortest way – directly between the recipient and you. There are no intermediate servers slowing down the process.Your data is sent directly to the person at the other end. Nothing is stored on a server and transfers are fully encrypted.
Advantages:
It utilizes the built-in P2P in Adobe Flash 10 and merely acts as a conduit between browsers, so no server is really needed.
Speeds are limited only by the network itself, since there's no server as an intermediary, so the number of FilesOverMiles users doesn't equate with the transfer speeds at all. That's awesome.

From a user standpoint I found Files Over Miles very easy to use.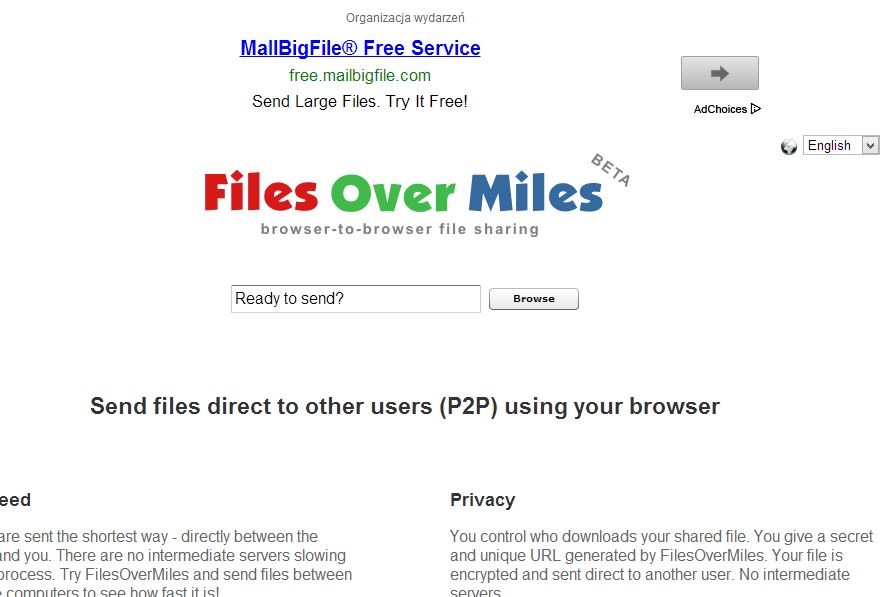 Files Over Miles is brand new and still in beta, but probably going to get popular very quickly.I can say personally that this site is safe ,seure and reliable. What are you waiting for?