iPhones are always more painful to manage as compared to Android-powered phones due to the much dependability on the Apple ecosystem and iCloud. For backup and phone management purposes, Apple has developed iTunes, which can backup your iPhone data on a local level. On the other hand, iCloud backs up data to the Apple cloud. Even though iTunes and iCloud are the two official media backup tools for iOS, but these two aren't your only options to create backups, nor they are the best way to backup your iPhone/iPad. If you want to make full or selective backups of photos, documents, books, music, apps and more, DearMob iPhone Manager offers many more capabilities than that of iTunes.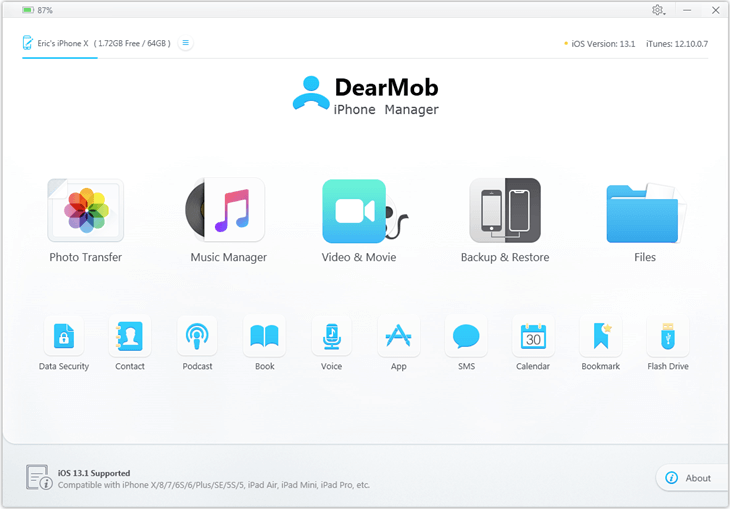 If you're looking for an iTunes alternative for Windows, then DearMob iPhone Manager would be the best choice that can enhance your iPhone experience even better.
Using DearMob iPhone Manager to Backup your iOS
Using DearMob iPhone Manager to backup your iPhone is extremely simple. When you open DearMob iPhone Manager for the first time, you'll see a very familiar-looking user interface. What you'll see is a series of icons, matching those that you see on iOS.
DearMob iPhone Manager comes as a standalone application for both Windows and macOS. Needless to mention, it does not require iTunes being installed on the system to work. Here are the few features that make this tool a much better iPhone storage Manager and backup tool in comparison to iTunes.
1 Click Full Backup and Restore
Performing a backup and restore operations are very easy with this software. No doubt, this can also be done with iTunes, but the difference comes in performance and limitations. iTunes runs considerably slow on Windows-powered computers. It utilizes a lot of system resources and still does the job slowly. Also, iTunes puts several limits and does not allow users to backup their iPhone or iPad completely. This tool works on both; Windows and Mac, and provides users with a one-click choice to backup and restore all files on Apple devices.
The full backup allows users to Transfer Everything from iPhone to iPhone. In order to transfer everything from one iPhone to another, there may be two solutions for different scenarios. In the first case, the target iPhone is new, and you want to migrate iOS data to the new iPhone. In such a case, you can perform a full backup of the source iPhone, and restore the target iPhone with the backup file. In the latter case, the target iPhone has been used for some time and has content on it. Thus, you normally won't want a restore from a backup file, as it will remove existing data on the target iPhone. In this workflow, you are given the option to transfer desired content to transfer from one iPhone (source) to another iPhone (target), without erasing existing data on the target iPhone.
Create Backups Selectively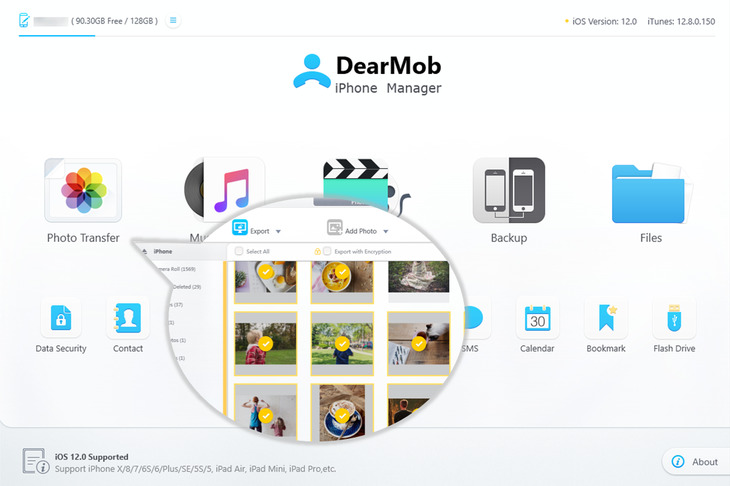 The most helpful feature of DearMob iPhone manager is that it provides manual control while backup of data. Along with 1 Click full backup facility, there you get the selective backup feature as well. Whether you want to just backup photos, videos or manage applications installed on your phone, you can do it separately. The user interface of DearMob iPhone Manager allows these options individually, thus you can selectively backup files on your iPhone.
Export files in common formats
Apple has a practice of making file formats that are compatible only within its ecosystem. For example, the photo and ebook extensions used within Apple devices are HEIC, and EPUB, and these are entirely unfamiliar with others. These extensions are rarely supported by other devices. Using the DearMob iPhone Manager, you can convert them into more familiar formats, that are widely used and common to other operating systems. Users can convert photos from HEIC to JPG, convert ebook from EPUB to PDF/DOC/TXT, convert contact/messages to PDF/DOC/TXT, and so on. Thereafter, these files can be played and viewed on a non-Apple device as well.
Encryption and Security
While generating backups of the iPhone, users can secure them with passwords. They can decide to set up a password to encrypt the iOS backup file. However, only with the correct password can you launch the restoring process. Once, a password is set, backup files can be restored only through the correct password. If that doesn't happen, there's no way to recover those files and backups.
How to backup using DearMob iPhone Manager
It is considerably easier to get started with this tool. Users just need to download this DearMob iPhone Manager from the official website. Here are the steps that you need to follow during this procedure:
Connect your iPhone to your computer with the USB cable.
Tap "Trust This Computer" on your iPhone screen.
Start DearMob iPhone Manager and click "Backup".
Simply click on "Backup Now" and you will get a complete iPhone backup file.
Overall, we find this tool pretty helpful and we highly suggest iPhone users to give it a try. Especially, if you're exploring something better than iTunes, the DearMob iPhone Manager suits your demands perfectly.
Plans and Pricing
Without any doubt, DearMob iPhone Manager does way more than the iTunes. This is an all-in-one solution for managing your iOS device and making sure that all the data on your phone is safe. It's easy to use, reliable and works flawlessly.
We first recommend you to download DearMob iPhone Manager and install the trial version and if it suits your needs, you can go for the full version. At the time of publishing the article, there is 30% off on all plans. Also, all the plans come with 30-days money-back guarantee.
 A one-year license is priced at $39.95. You get one license for 1 computer, with free updates for a full year.
A lifetime license is priced at $47.95 and get you two licenses (for 2 computers) in addition to a lifetime of free updates.
A family license comes priced at $69.95 and this gets you licenses for 3 computers. With this plan, you can also get HD video convertor tool for free as a gift.
Here you can purchase DearMob with 30% discount >